An Hermès Laundromat Is Coming To New York
There's really nothing chic about trekking to the laundromat, but Hermès is ready to put an end to that.
The French fashion house is launching a laundromat-inspired pop-up shop, Hermèsmatic, in New York on June 14th. Open to the public, the store will offer complimentary dip-dye services on the brand's silk scarves. Giving a major upgrade to the traditional laundromat, the shop features washing machines in Hermès' signature orange hue that perform the dip-dye service. There are also matching orange laundry baskets and Hermès logos plastered all over the walls—which make the idea of throwing a load of wash in sound pretty chic.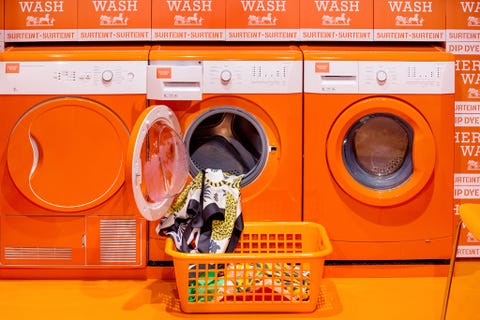 Shoppers can either bring their own Hermès scarves for a fresh dip-dye
makeover or purchase a one-of-a-kind scarf from the brand's vintage dip
dye collection, which will be sold at the location. There are three
different color options—fuchsia, violet, or denim blue—each with devoted
washing machines that'll transform your scarf in 24 to 48 hours.
Following its debut in New York, the Hermèsmatic pop-up will travel to
Washington D.C. in July, Nashville in October and Los Angeles in
November.
You can shop the Hermèsmatic pop-up experience at 90 Gansevoort St. from 11 AM to 8 PM daily from June 14 through June 18.
Source: Harper's Bazaar