Europe's answer to Amazon Go
Helen, a stay-at-home mum living in the north of Lisbon, has just done a weekly grocery shop. But instead of paying for her items at the cash register, she's walked straight out of the store without going to a checkout.
The 34-year-old is one of the early customers of Europe's first autonomous store, which uses computer vision and machine learning to enable customers to shop without queuing, paying with a cashier or even getting their wallet or phone out.
"I'm glad this store opened in my neighbourhood," she told Sifted on a recent visit. "It's so much more convenient to shop when you have a baby stroller. I love it."
The store, which is a partnership between technology provider Sensei and the physical retailer Continente, is an early example of what Sensei hopes will soon be used by retailers across the continent.
It aims to be Europe's answer to Amazon Go, the checkoutless shop created by Amazon which launched in London this March after testing the water in the US over the past three years.
Sensei's bet is that ultimately all shops will be compelled to adopt this technology in pursuit of improved customer experience.
"There's no hassle, no friction in the experience: if you forgot to buy water, you just go in, buy your water, come out –– it's super fast! It's like Uber for shopping," says Joana Rafael, COO and cofounder of Sensei.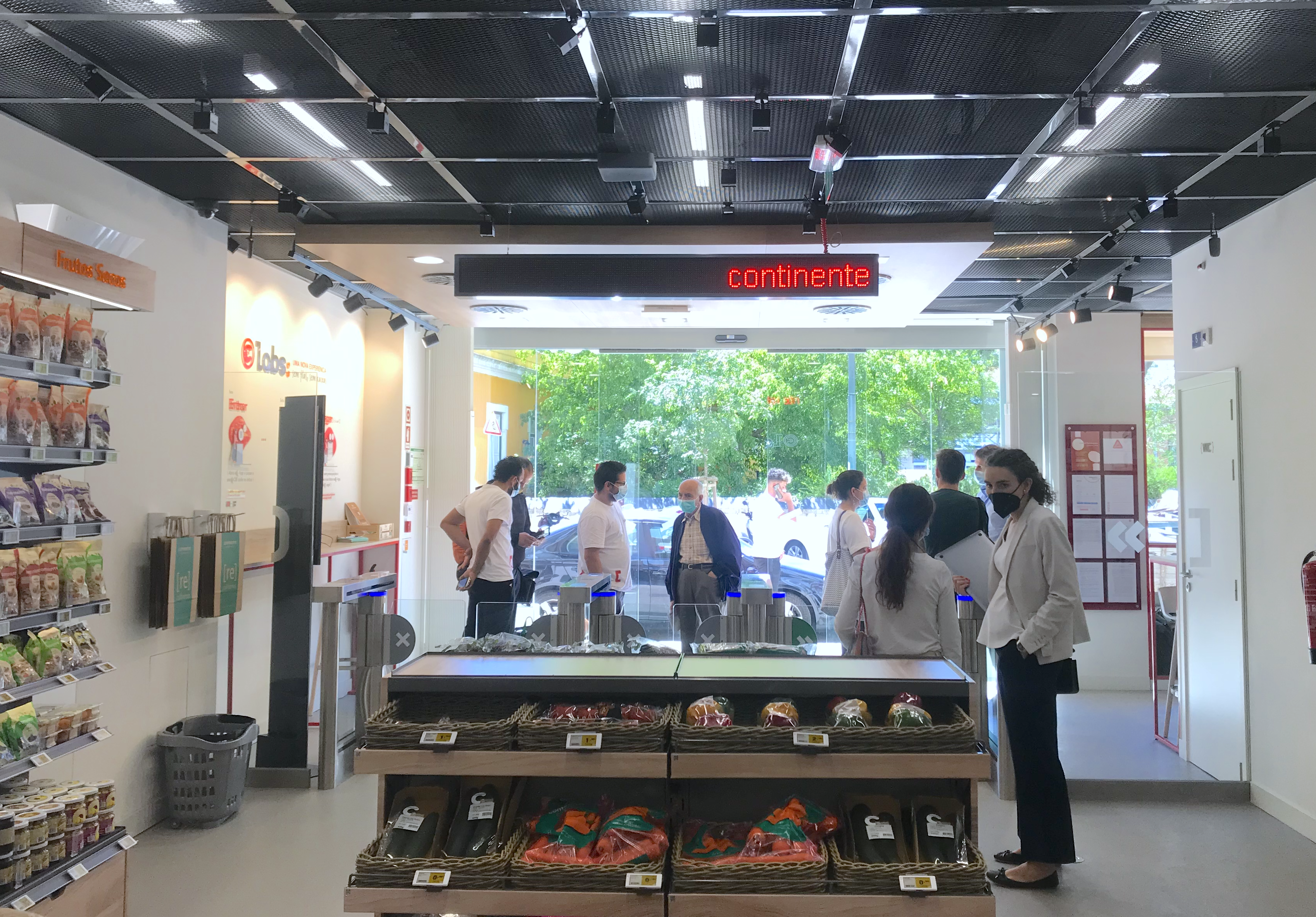 How does it work?
It starts with Continente's app — when customers enter the store for the first time they sign up — which provides a one-time QR code used to connect their 'virtual basket' to Sensei cameras installed on the store's ceiling.
These cameras follow customers' movement in the store and automatically add products into the app. Data from the cameras are also coupled with those from sensors integrated into the shelves. And when customers are done shopping and leave the store, they'll instantly receive an email receipt from Continente.
Rafael says there is a bit of a psychological barrier at first, but people soon get used to it.
"We've noticed that the hardest part for customers is actually to leave the store," he says. "They feel like they are stealing our products, but they aren't. They just get automatically charged through the app and don't wait in line to pay."
Lights, cameras, action
The autonomous store has more than 130 cameras on the ceiling for a space of 153 square meters. But, Sensei's cameras do not use facial recognition to track customers.
"We don't know who the customers are. We have no way of identifying a person. She or he has an anonymous ID and the system identifies the customer basket associated with a number," says Vasco Portugal, CEO and cofounder of Sensei.
Before opening the store, Sensei went through a privacy data assessment and the founders said that they don't retain any data or identification of the users.
"The cameras keep track of individual customers through their paths and the colours of their clothes and stuff like that. It's a mix of colours that helps the cameras understand each customer," says Frederico Santos, head of digital and innovation at Sonae MC — the company which owns Sensei's partner retailer Continente.
He said that the system also recognises every individual product in the store through a machine learning algorithm.
"Every shelf has a sensor which detects the weight and location of one product. It helps identify it correctly and adds or removes it to the virtual basket."
Like other shopping apps, Sensei does ask for the customer's name, phone number and payment method — and in this store, the app data is managed by Sonae MC.
But that doesn't seem to bother customers. Since they launched on 26 May the store has welcomed an average of 150 to 200 customers per day, from students to elderly people.
"It was funny because the first people to get in [on the opening day] were old people. Even before the opening, they were asking when it's going to open because they really wanted to be one of the first to enter the store," Portugal told Sifted.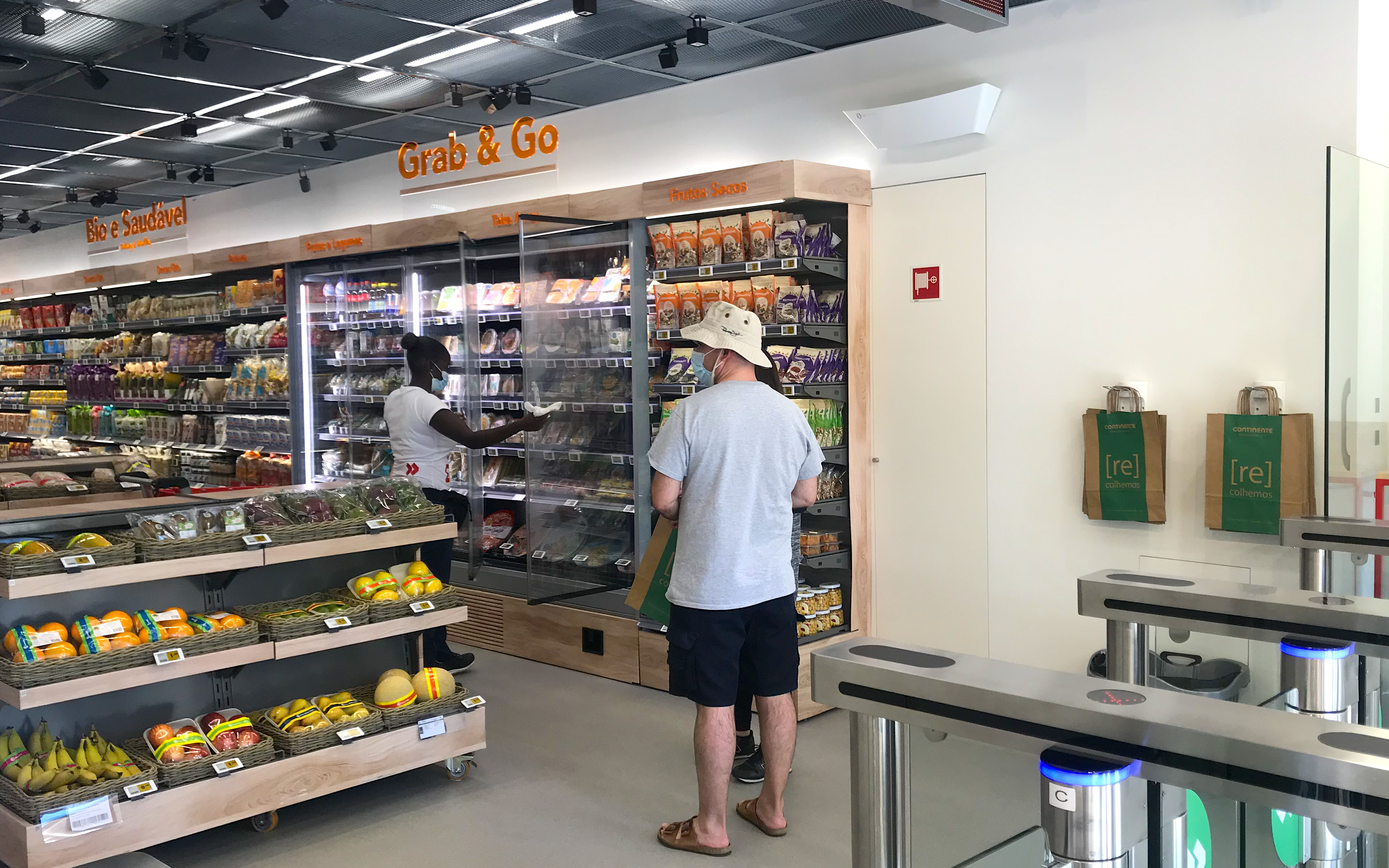 An optimised store for retailers
Sensei also says that its tech gives retailers more data on stocks, products' shelf life and makes sure 100% of the shelf space is allocated. Staff members also receive real-time inventory updates.
"Basically the supply chain is more optimised to the store. In normal stores, it's all through experience, walking around, eye checks while Sensei's tech knows the performance of each one of this product, which one sells more and the rotation," says Vasco Portugal.
An optimised supply chain could, according to Sensei, also mean less food waste. More than 1m tonnes of food are wasted or lost in Portugal — that's 17% of what the country produces.
And when it comes to the financials, stock optimisation and improving customer experience could help retailers generate more revenue — but at present, Sensei's tech doesn't cut labour costs.
The store employs seven staff members, which is more than a regular store of this size, says Santos. "Usually, 20-30% of people work at the checkout system and check the stock and refill shelves when there's no customer."
In the autonomous store, staff are in charge of onboarding new customers, stock and store management and introducing customers to new products.
Online grocery vs. the checkout-free experience
One big foodtech trend in Europe is fast online grocery apps –– which have received billions from VC investors in 2021. But Sensei's founders don't see them as direct competitors.
"Autonomous stores can also be a source of products for quick online delivery riders who need a store in the centre of the city. Having dark stores and convenience stores like ours is actually very important for the sustainability of quick delivery experience," says Rafael, who pointed out that a Deliveroo worker was in the store earlier to shop for a customer.
As Sensei provides a quick in-and-out shopping experience, its tech comes in handy for Q-commerce riders and startups, who would otherwise have to manage the stock of multiple dark stores, she said.
Santos sees Sensei's tech and the rise of online grocery apps as an additional option for customers to shop: "Continente has been doing online grocery for 20 years. But online and ecommerce still represent 10% of sales in Portugal."
Although online grocery orders grew during the pandemic in the UK, France and Italy, it remains comparatively low, with only one quarter or less of these populations having purchased groceries online — according to a report by market research platform GWI.
"I don't think we've reached the end of the physical store yet. It's not something that will change in ten years at all so we need to keep investing in convenience."
He told Sifted the company is thinking of adding a physical cash register to the service in order to give customers the option of using traditional payments or signing up through the app.
Can Sensei compete with Amazon Go?
Sensei's founders bet on an "unmatched and convenient customer experience."
"We believe that the best technologies are the ones that really mix into your life and you don't notice them." says Joana Rafael. "The store feels welcoming, you don't need to change your shopping behaviours apart from the fact that you don't have to stay in line to pay anymore."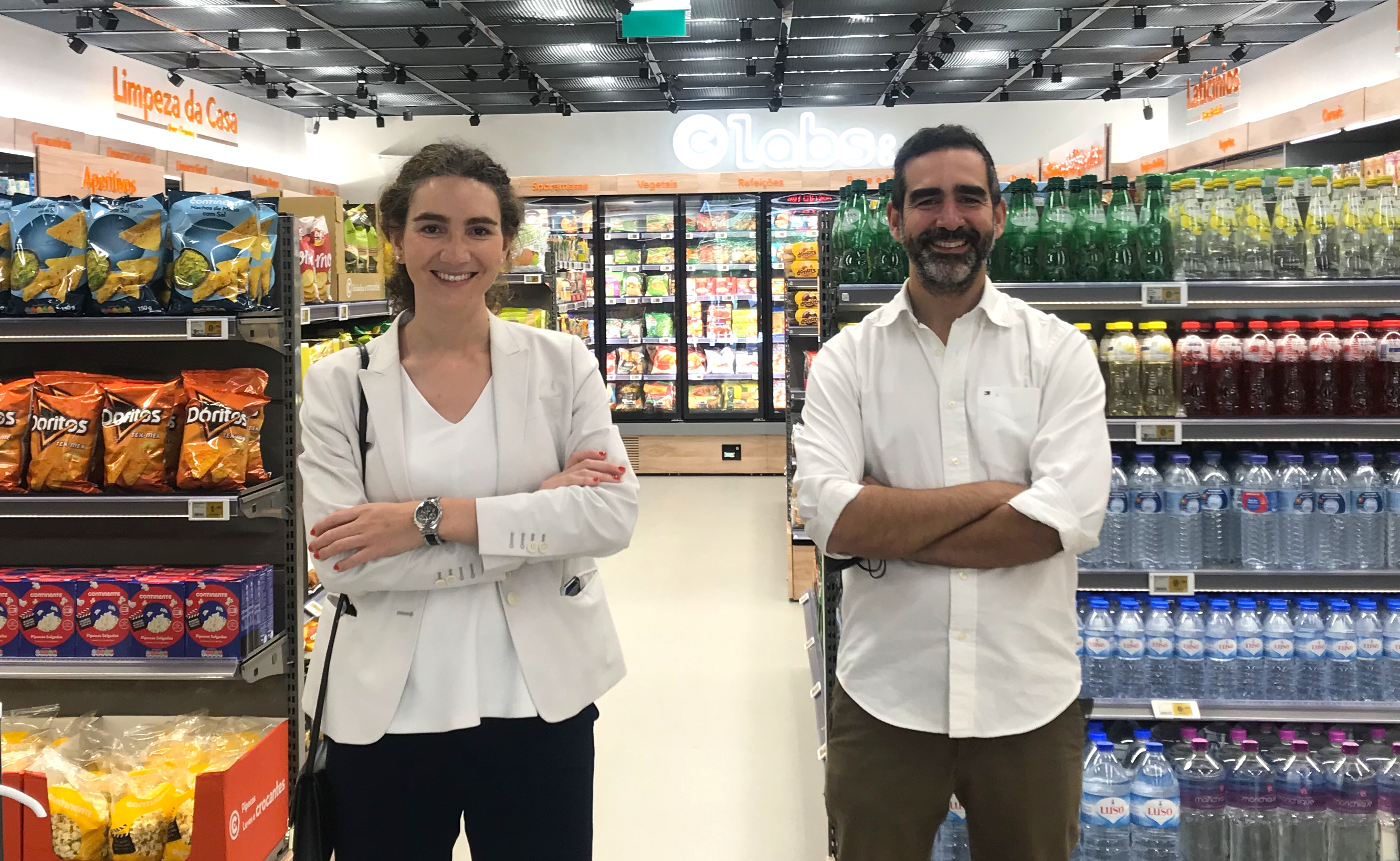 Less than a month after opening its beta store, Sensei and Continente are now adjusting tech discrepancies, and are looking to gather enough data about customer patterns and stocks.
While Amazon Go's planning to deploy its tech in airports, Sensei's founders said they are exploring other verticals such as grab & go stores, food courts, stores in gas stations and larger supermarkets.
In April, Sensei raised a $6.5m seed round led by Seaya Ventures and Iberis Capital, and tells Sifted they're in talks with retailers from Portugal, Spain, France, Germany and the UK.
"Convenience and automation are going to be the norm in the next five years," says Rafael. "Every store is going to be autonomous or automated at a certain point, because the tech will give people an efficient [shopping] experience."
Source: Sifted