Online grocer startup Kolonial raises €223m, and rebrands as Oda
Norwegian online grocery startup Oda (formerly called Kolonial) has just raised €223m from SoftBank and Prosus at a €750m post-money valuation. That's one of the biggest funding rounds ever for a Norwegian startup — but it's not the only thing it has to boast about.
In 2020, Oda grew 100% and hit close to €200m in revenue. It now accounts for 70% of all online grocery orders in Norway — and so far this year, it's turning a profit.
But on top of that, cofounder and CEO Karl Munthe-Kaas reckons Oda has also developed the world's most operationally efficient warehouse system. It now has a UPH (average units processed per labour hour) of more than 212, which is streaks ahead of the competition. (Even the UK's Ocado, considered a leader in grocery technology, had a UPH of 168 in 2019.)
"We've reached unprecedented levels of efficiency," Munthe-Kaas says. "And that entirely changes the ball game."
In Europe's booming online food sector, that's not a bad position to be in.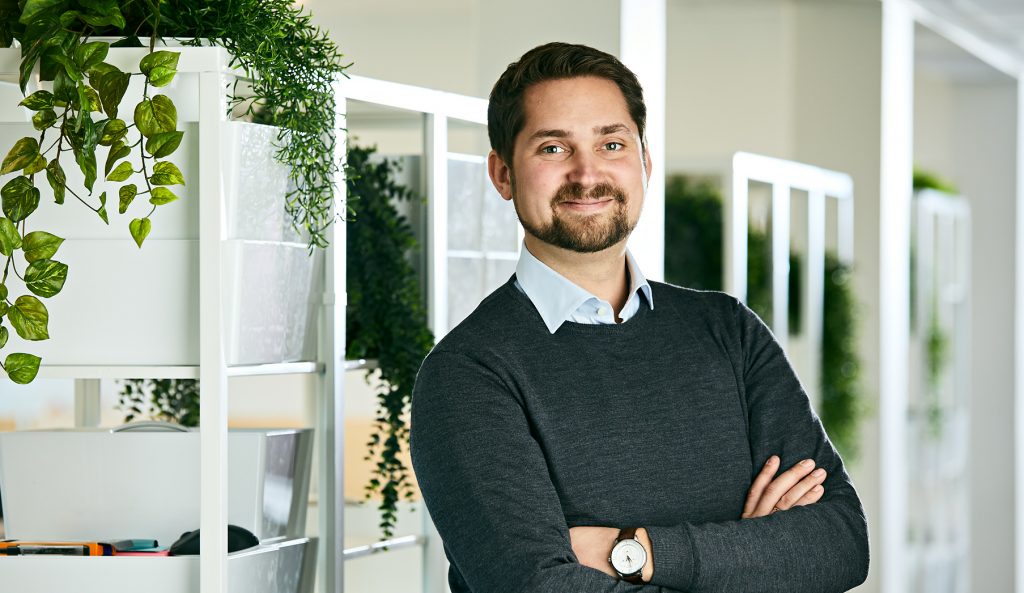 The full shebang
Oda is the kind of online grocer which offers customers just about everything they could want. In Norway, it currently stocks more than 7k goods — comparable to the selection in a physical supermarket — and offers same day and next day delivery, with a small delivery fee ranging from €0-6. On average, customers spend €119 per order.
That makes it comparable to other online grocery upstarts with a wide selection of goods like MatHem in Sweden, Picnic in the Netherlands and Rohlik from the Czech Republic.
And, like those other companies, Oda wants to slowly (or not so slowly) bite into the market share of traditional supermarkets and discounters.
In Norway, online grocery accounts for just 1.5% of the total grocery market. The UK leads in Europe, with 13% online penetration, followed by France with 7%. In Germany and Finland, the two markets Oda plans to expand to next, it's around 1%.
Incumbent supermarkets have been slow to get to grips with online shopping. Most which do offer it are still picking and packing in-store, which is hugely inefficient. According to Munthe-Kaas, getting employees to wander around supermarkets collecting items from a customer's shopping list is about three times less efficient than Oda's processing model.
There are other benefits to doing away with physical stores too.
"We're doing the same turnover from our warehouse in Oslo as 50 supermarkets."
"We're doing the same turnover from our warehouse in Oslo as 50 supermarkets," says Munthe-Kaas; Oda's Oslo warehouse delivers 2m items per week. "And having all that volume in one spot makes the upstream extremely efficient. Produce comes directly from farms, so nothing has time to expire. The supply chain is shorter so there's less than 0.5% waste."
Fruit and veg just aren't sitting on shelves for very long — and other kinds of food, like bread, which often end up leftover at the end of the day in a traditional supermarket, are made to order at Oda's warehouse, further reducing waste.
"When you combine that with our UPH number, there are such high savings compared to physical stores that we can cover the cost of distribution," adds Munthe-Kaas. That solves two big problems online grocery has historically faced — profitability and high price points.
"If you really want to capture the retail baskets of families, you can't charge 20% extra and you need to have a full assortment. That's the only way online grocery will really penetrate the mass market; people are still price sensitive," says Munthe-Kaas.
Inside the warehouse
Achieving these heights of efficiency comes down to "tech plus operational excellence," says Munthe-Kaas. "There are more similarities between us and Toyota than a retailer — we're like a factory operation."
"There are more similarities between us and Toyota than a retailer — we're like a factory operation."
Munthe-Kaas won't elaborate on the details or explain to Sifted the precise journey a strawberry would go on from field to warehouse to doorstep — but he confirms there are robots involved (as well as plenty of humans).
"This tech is our advantage, it's the head start we have."
Next stop: Finland
With its fresh funding, Oda plans to launch operations in Finland by the end of the year and has already started building its first warehouse there. In 2022, it hopes to launch in Germany, and has begun talks with suppliers in both countries.
As in Norway, it will serve customers who live within a two hour driving radius of its warehouses. That makes Germany a pretty enticing market — and not just because its grocery sector is worth €200bn.
"Germany is fantastic because it has a uniformly distributed population," says Munthe-Kaas. "With one warehouse you can easily cover five, six, seven million people. That's two or three times more people than we cover from our warehouse in Norway."
On-demand grocery
Oda isn't the only online grocery startup raising hefty chunks of capital to gobble up some of the German grocery market, however.
This year has already seen Berlin-based on-demand grocery startups Flink and Gorillas raise big rounds of funding ($52m and €245m respectively), while Prague-based Rohlik raised €190m to move into Germany this year. Food delivery platform Wolt also launched in Germany last year, and is fast expanding its grocery delivery offering.
Munthe-Kaas isn't all too worried about the Flinks and Gorillas though. "It's physically impossible [for those startups] to beat our distribution efficiency. It's impossible to beat us on waste. And they can't offer the same kind of selection. To capture 90-95% of grocery spend, you need to have a fully integrated, centralised online model — and that's an area the 30-minute delivery guys can never capture."
"We're fighting for the big pie."
"It's the same as the offline market. In Norway, 62% of groceries are bought through discounters, 33% through supermarkets and 5% through the 7/11s. Gorillas, Glovo and Wolt are all fighting for a tiny piece of the online pie. The German market is a €200bn market, and I'm sure the speedy delivery guys can capture a few billion of that. But we're fighting for the big pie."
Source: Sifted