How retail parks have become prime grocery retail locations
Space has opened up in out-of-town retail parks – and shoppers feel more comfortable there. So food retailers are moving in. But will the trend last?
It wasn't just the high street: in recent years, out-of-town retail has been in a sorry state. Retail park stalwarts like Carpetright, New Look and Homebase were forced into company voluntary arrangements (CVAs) to survive, while Toys R Us and Maplin plunged into administration.
Even before Covid-19, retail park developments were grinding to a halt, down 15 to 20% year on year, according to a 2019 Cushman & Wakefield report, despite "little evidence of over-supply".
The supermarket megastore was facing a similar crisis. The format had been haemorrhaging market share as more and more consumers opted for the convenience of smaller, closer stores more often. In the UK, hypermarkets held 48% of the market in 2013, but this had dipped to 37% by 2019, according to Bain & Co analysis.
"It happened quickly," explains Bain retail practice leader Anna Thal Larsen. "Major grocers had expanded them rapidly, then almost immediately after ran into problems. There was a resurrection of local shopping, combined with online – compared to the previous well-established habit of one big shop once a week."
But then came the pandemic and a new lease of life for the far-from-the-high street shopping sites. Open-air, spacious, and easily accessible by car, they have Covid-safe features already built in. And consumers are seeking exactly that from their shopping experiences.
"They've offered more confidence to customers with regards to safety and comfort," says Savills director of retail Johnny Rowland. "In most countries, activity normalised faster in open-air retail formats."
But will it last? Does the retail park have lasting appeal in the new normal? What is the future of the huge footprint hypermarket? And what plays are the majors and their discounter rivals making in response?
With the UK still in lockdown, year-on-year retail footfall fell by 73.5% in February, with only a 3.4 percentage point improvement since January, according to this month's BRC-Sensormatic IQ data.
But the decline hasn't been uniform. Retail parks have proven the most resilient format. Where high streets and shopping centres have seen declines in keeping with the average, retail park footfall drops have been closer to 25%. The presence of essential stores like supermarkets is certainly part of that, but safety is a factor too.
A recent GlobalData survey found 7.4% of consumers say they would visit retail parks more often after the pandemic, the second-highest proportion only to high streets.
"Supermalls and flagship shopping centres had huge appeal among both consumers and retailers prior to Covid-19 with their variety of foodservice and leisure options, alongside large retail stores providing a day out destination," says Sofie Willmott, GlobalData lead analyst. "But many shoppers will feel that closed, restricted, or open but potentially unsafe amenities do not warrant them visiting these destinations and will choose to shop online or at closer locations such as town centres and retail parks instead."
The perfect size for a supermarket has changed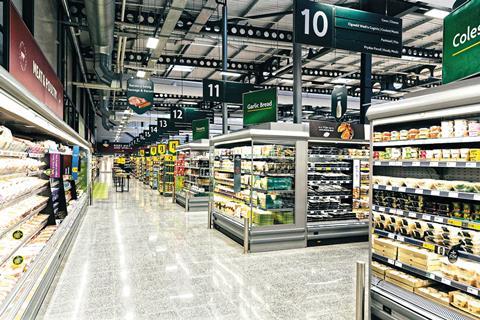 Even with the return of the big weekly shop and the strong growth supermarkets are enjoying, "there's absolutely no one out in the market looking for big stores over 100,000 sq ft," says Richard Petyt, partner at Knight Frank.
Stores of more than 100,000 sq ft – Tesco's biggest in Walkden is nearly twice that at 185,500 sq ft – are a symbol of "world domination madness, trying to take on every market possible," says Rapleys partner Richard Curry.
So what's the optimal store size these days? And where are they looking? Sites now being sought are "properly sized" says Curry: around 45,000 to 50,000 sq ft.
These are "predominantly for a food offer," says Petyt. "That's what the market looks for now – you go to the shop to buy your food but you buy your non-food online.
"They've identified that mid-size food stores have got a good future. And with stores trading well it's spurred them on to find opportunities."
Morrisons has an "ambitious growth agenda" it says, with new store openings within the 20,000 to 30,000 sq ft range. Sainsbury's paused supermarket launches last year but has returned with 20,000 sq ft footprint stores. Renewal of its 62,000 sq ft Hempstead Valley site "marks the start of a new style superstore". it said. Tesco is eyeing new locations but in the Express format. Asda's estate growth has slowed but is a "sleeping giant" says Curry.
But it's not just mid- size supermarkets. At the other end of the scale, small footprint convenience stores remain hot property. And where Aldi and Lidl were previously focused on increasing store sizes, as they've ramped up their efforts in convenience, particularly in the capital, the minimum space requirement has dropped to just 7,000 sq ft. Lidl's ambition is 130 London stores by the end of 2023, while Aldi is seeking 100 stores inside the M25 by 2025. "They have been aggressively seeking stores in London and other major cities," Petyt says.
Amazon – which opened its first UK physical store in Ealing this month – is also expected to roll out further stores in coming months, each around 2,500 sq ft in size.
While home-working has devastated footfall in the capital, it's good news for new entrants readying for the return of normality. Post-lockdowns, footfall is expected to surge.
"There's more opportunities where other retailers have gone bust," Petyt adds.
Discounters
The discounters, especially, are "without question" seizing the opportunity, says Richard Curry, partner at property and planning consultancy firm Rapleys.
Despite the pandemic, Aldi and Lidl have not faltered in their expansion plans. Aldi opened 37 stores – Covid disruption meaning it missed its 50 target – with a long-term target of 1,200 branches by 2025. Lidl has opened more than 25 stores since July, its 1,000 stores by 2023 target on course. While both are making plays in convenience, they too are targeting retail park locations, site requirement documents reveal.
"Many retailers in the retail park world were already struggling, and for some Covid was a death sentence," explains Curry. "Those Mothercare, Toys R Us, Homebase scenarios were cropping up more and more.
"Now park owners are thinking 'if we're going to get rent in a pandemic we're going to get it off a food store'," he adds. "'It might not be the value we would have got, but it's safe.' The discounters are taking advantage of available space. And they've a great selling point of 'we may be paying you less rent but at least we're paying the rent'. Plus aspirations of rental value have come to their level, which has enabled them to start expanding more."
"Many retailers in the retail park world were already struggling, and for some Covid was a death sentence"
B&M boosted sales and profit forecasts thanks to rising demand for out-of-town and budget shopping, it said last year, revealing plans to open up to 45 stores. Rival Home Bargains has added more than 20 stores in the past financial year – which it cited as a driver of profit growth. Its long-term goal is 800-1,000 stores.
"They'll be getting better rates, and there's more opportunity. They're taking space in those voids on retail parks that wouldn't have been available a few years ago. So landlords are happy to talk to them," says Richard Petyt, partner at Knight Frank. "They're a good safe bet for a landlord to have."
Although expansion was well underway among the discounters ahead of the crisis, "they see this as a good time to grow market share, and as a population we still prefer to shop for food in-store," argues Rowland.
"Retail opportunities are now arising on parks which are more affordable than before, and landlords like the drive in footfall," he adds.
While the discounters have been pursuing aggressive growth at the bigger end of their store estates, however, the big four have been more conservative.
Morrisons and others are still seeking some new developments, but "it's a far cry from the food store boom years," explains Rowland. Their lack of serious action indicates that "broadly, they have enough space".
Indeed, adds Curry, in the face of growing pressure from the discounters, the sales spike the majors have enjoyed through the pandemic has "given them a bit of a lifeline to reassess their estates".
Dunnhumby data shows that both basket spend and items per basket spiked in response to lockdown announcements. As essential stores, the mults have all enjoyed a huge boost in sales through the pandemic, as people do big shops and avoid unnecessary shopping trips. And big stores are the best places to do that.
But this shift in consumer behaviour is not expected to last beyond mass vaccination.
"Our view is that it's a temporary shift, not a structural shift back to the old, more traditional way of shopping"
"It masks the decline," says Thal Larsen. "It's driven by circumstances. Our view is that it's a temporary shift, not a structural shift back to the old, more traditional way of shopping."
Rapleys' Curry agrees. "People have gone back to the one-stop shop business rather than queueing up at four different stores, because how many times do you want to queue in the freezing cold?" he says. "But I'm convinced people will go back to doing that again afterwards. Because they like doing it, they want to choose. They're forced into doing one big shop now, but it's a temporary thing."
Challenging outlook
Without effective action, Bain & Co forecast that grocery sales in European hypermarkets will decline by 13% from 2020 to 2030, while the average earnings before interest and tax margin on this format is set to drop from 1.8% to –0.8%.
"We've seen this happening even faster in the UK," says Thal Larsen. "It's great for the grocers that they've had this injection, this lease of life granted to them over the last year. But it's still a challenging outlook for the sector. It's now about figuring out how to use this positive year to make the right investments and moves."
So the focus of the major supermarkets is now on making their existing estate work harder for them.
"It requires a rethink of store network strategy that will include closing or turning around underperforming stores, pursuing asset swaps, and repurposing space," Thal Larsen adds.
Those being retained by the mults are getting more of the shop floor dedicated to other activities.
Some moves have been reactive. Asda has transformed the George clothing section – a brand reportedly under consideration of being spun off by Asda's new owners – in two stores into separate and secure vaccination centres.
Some are testing the waters for what will stick in the new normal. Asda late last year entered a partnership with DIY store B&Q, for new 2,000-3,000 sq ft 'store within a store' concessions. It's doing the same with toy retailer The Entertainer, MusicMagpie and branded fragrance distributor Per-Scent. Morrisons, meanwhile, is rolling out Market Kitchen, a street food concept with hot food to go for shoppers and Deliveroo pick-up.
Of course, many are using stores to pick orders made online. Asda – announcing the closure of two e-commerce CFCs last week – claimed store picking would improve levels of slot availability, capacity and service. Sainsbury's likewise said last week it would expand online operations into more than 20 of its stores in London following the planned closure of its online fulfilment centre in Bromley-by-Bow.
Tesco is planning to establish 25 'urban fulfilment centres' by 2022 – built in the back of its large footprint stores. "We'll need to convert some of those stores, but we have the space… 10,000 to 15,000 sq ft is needed, and they're very, very efficient in terms of pick," former CEO Dave Lewis said of the strategy in 2019.
They need to do something. "All of the big grocers have been grappling with this for a number of years now," Thal Larsen says. "Space has been going up while productivity in that space has been going down.
"For some consumers, the vastness of hypermarkets can be a turn-off," she adds. "Resurgent hypermarket operators will convert or re-engage these shoppers through deft differentiation, clearly communicating why it's worth travelling to shop with them by reviving the customer-centric mission of one-stop shop convenience."
After all, they're already locked into long leases. Savills analysis finds that the vast majority of retail leases in the UK will remain untouched by the end of the crisis. And without a lease expiry event on the horizon, there is little impetus for landlords to consider re-gears, alternative leases and lower rates.
"I don't think the supermarkets really want to be paying retail rents on dark store activities," says Curry. "But because they've signed up to these leases for 25 years, they're having to pay anyway. So they might as well turn it into EBITDA-producing space than have it redundant."
As Rowland puts it: "They need to and are thinking smarter about how to make their bricks-and-mortar estate work harder for them, to keep pace with the ever-expanding discounters".
How the supermarkets are getting more from their stores
Asda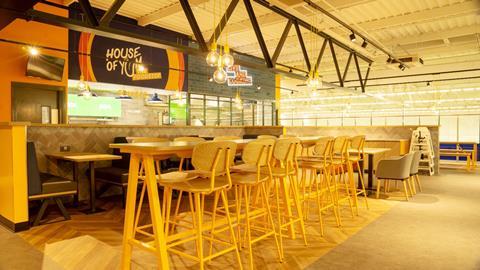 The supermarket last year accelerated its store-within-a-store strategy after seeing an increasing number of shoppers looking to complete multiple shopping missions on a single trip.
Larger stores are also being bolstered with partnerships with the likes of online restaurant Twisted London. December saw the launch of a trial of a new concept at Asda's Clapham Junction superstore that saw the food brand take over one of Asda's biggest cafés and launch new counter and delivery services.
Tesco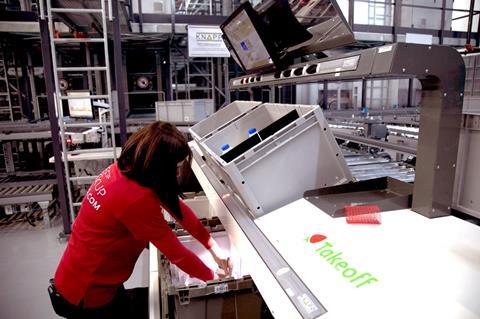 Tesco revealed its tie-up with automated micro fulfilment tech vendor Takeoff Technologies in 2019. Its plan is to install the technology at scores of larger stores, making use of spare space to fulfil online orders.
With online's share of grocery sales at a record 15.4% in the four weeks to 21 February (up from 8.7% last year) [Kantar], utilising the store estate to increase capacity is a savvy move. Interact Analysis forecasts there will be more than 220 automated MFCs in the UK by 2024, the bulk in grocery superstores.
Morrisons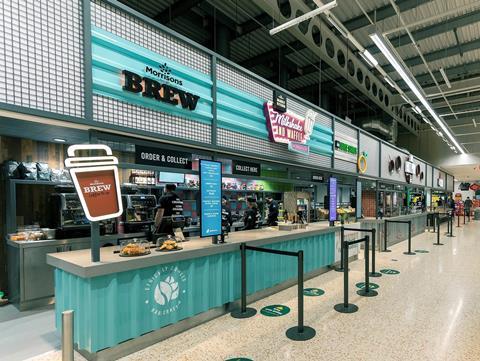 Morrisons first trialled its Market Kitchen concept in late 2019, and has since rolled it out to several stores, as well as in standalone format.
The stores become "part-supermarket part-fresh food takeaway". While hot food to go is not new at the mults, using the sites as hubs for courier platforms is more recent. Market Kitchens offer rapid delivery via Deliveroo, meaning stores double as a well-placed dark kitchen.
Morrisons last year also nearly doubled the number of in-store florist shops to more than 100.
Sainsbury's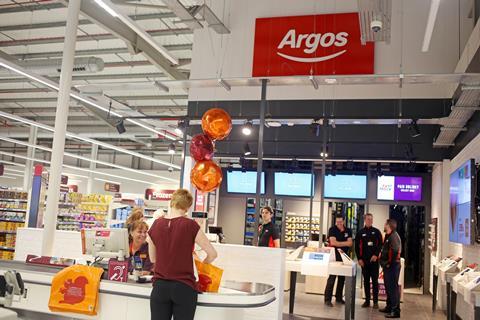 The supermarket acquired Argos in 2016, and soon started establishing dedicated desks in its superstores.
Sainsbury's supermarkets are fast becoming the only place to collect Argos ordered goods. In November it confirmed plans to close 420 Argos stores over the next three years, explaining that in their place 150 Argos outlets would open in its supermarkets.
It's a big draw. Argos gained two million new customers over the pandemic, with sales growth of 10%-plus.
Aldi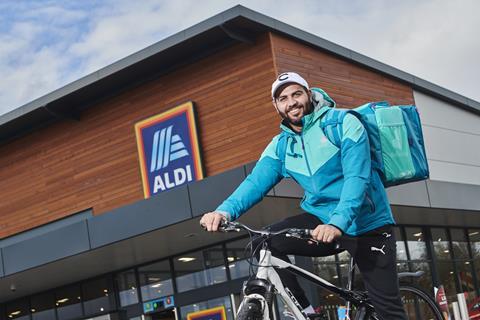 Aldi has quickly ramped up the number of its stores that offer Deliveroo deliveries over the past 12 months – now available from more than 40 stores.
As part of the process, items are picked and packed by store staff. It's a far cry from the major online picking operations that take place in big four supermarkets. But it's a start.
Aldi's huge expansion of its store estate over the past couple of years would give it significant reach if it did decide to launch home deliveries from stores.
Source: The Grocer